This is one of those visions that you have to look at and shake your head to marvel that it's not April 1st. But it's not, it's December 3rd, and there really is a website called
Purrsonals.com.
And they
threaten
promise to
blog.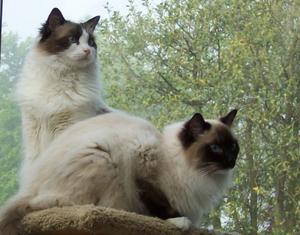 There's a great
cat news
section which says:
"Whether your single or not, this is the place for all cat lovers! Sign up now!"
Grammar lovers need not apply!
Press release
highlights:
"Only cat lovers (http://www.purrsonals.com/register.php) truly understand the unique bond between owner and feline," said Joan, one of the cat-loving founders of PURRsonals.com. "We've created a space where members know they'll be meeting others who are just as passionate and dedicated to their pets."...

PURRsonals.com expands on the typical dating Web site (www.PURRsonals.com) design by offering all cat lovers a social networking opportunity. Even cat lovers who aren't single can sign up to share cat photos, stories and videos with other members.

"So many people are scaredy cats when it comes to meeting others through a dating Web site," Joan said. "PURRsonals.com provides a welcoming, like-minded community, and we're excited to bring together a new group of cat lovers from around the world

PURRsonals is a new dating Web site committed to bringing cat lovers everywhere together for new friendships and partnerships that will last forever. As cat owners themselves, the founders of PURRsonals.com understand the strong commitment and bond cat lovers share with their feline friends. They appreciate the importance in finding that special someone to share this unique relationship companionship, love and caring. For more information, please visit www.PURRsonals.com.
It has to be a joke, right?
RIGHT??
Labels: cats, dating: what's that?, pussy, sheer ridiculousness