More of my thoughts on
BEA
as a whole will have to wait. Oh, but I can say I'm excited for BEA 2011...in Vegas! For now, some photos!
The first people who greeted me after I went and got a press pass (because fiasco 3, after losing my cell phone and missing my plane - oh, and a $75 cab ride to Glendale - was realizing I had forgotten the BEA pass Cleis sent me at home) were these elves:
I like the books that are stacked in a pretty way:
My
Cleis Press
publicist Kara Wuest and marketing guru Austin Wallace, who not only are fabulous at their jobs but are a lot of fun:
Cory Doctorow signed his YA novel
Little Brother
for me - this is in my top 5 "books I will read ASAP that I got at BEA."
Kevin Smokler rocked his
Booktour.com
bowling shirt (yes, it had his name on the front):
I met Laurie Halse Anderson's daughter while waiting in line for Nikki Giovanni to sign
Hip Hop Speaks to Children
Covers: (the big celeb covers I saw were the Olsen twins book and the Perez Hilton book)
Celebrity sightings: (also saw Arianna Huffington)
Alec Baldwin
Kevin Nealon
Dionne Warwick signed
Say a Little Prayer:
(it seems like a lot of celebs write kids' books, as opposed to...ones for adults, or maybe it just skewed that way since I was looking for kids' books for my cousins/friends)
I got Josie Bissett (
Beverly Hills,90210
) to sign a copy of her book
Tickle Monster
for my friend Ellen's daughter Clementine:
And I'm psyched for
Angry Little Girls in Love
by Lela Lee, out in October: (
click here
to see a larger version if you can't read it)
And, of course, cupcakes! The first book from
Crumbs Bakeshop
by Mia Bauer comes out from DK in October. It's called
Crumbs Bake Shop in a Box
and I think it may actually be a kit.
I got the two books I most wanted, but sadly didn't get to meet either author. Of course they're both memoirs by single(ish) moms: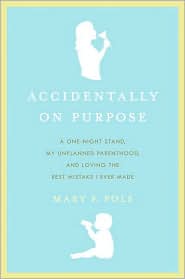 Accidentally on Purpose: A One-Night Stand, My Unplanned Pregnancy, and the Best Mistake I Ever Made
by Mary F. Pols - read it on the plane yesterday. Full review later, but of course it was moving, though seriously, every memoir I read lately has parental death in it. Gave me a lot of food for thought, about motherhood and about mothering those around us. Also gave me hope that my eggs aren't yet dead at 32 (Pols was 39 when she got pregnant/had her son).
And
Trailer Trashed: My Dubious Efforts Toward Upward Mobility
by
Hollis Gillespie,
which was originally to be published by ReganBooks (and I'd been told by an editor there it was to be called
Sky Whore
).
Labels: BEA, Book Expo, Book Expo America, books, publishing